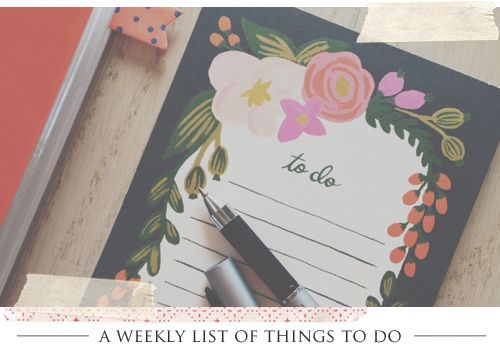 I don't have many words for this past week, because the heat has taken away my will to write. (Or, at the very least, to blow-dry my hair or wear something other than a camisole and a maxi skirt every day of my life). Anyhow, as far as I can tell, the week ahead should slowly take us out of this late-summer heatwave, and for that I am grateful. (A temperature of 88 has never seemed so appealing!)

We have also had a crew working on rewiring our entire duplex for the past couple weekends, which has been a bit overwhelming. (Call me crazy, but I don't like finding tiny bits of wire all over our home—whether in the sink, my purse pockets or our bed.) The whole place has been in some sort of disarray for a while now (at least by my own standards) and I'm ready to have working outlets in our kitchen and bathroom again, as well as no longer having random wall-holes and dirty handprints all over our cabinets. I haven't handled the whole thing very well, and for the past couple weeks my patience and grace have been…well, close to nonexistent.

This is just one of the downsides to renting. The landlord can make a call and there's not much you can do about it. I guess I just hate having a reminder that the place we live is not really ours at all. Does that make sense?

Here's a look at last week's to-do list, as well as a new list for the week ahead:
Last week's goals:
Marriage, Motherhood & Home Life
—
Meet with financial advisor
— Plan date-night for this month
—
Take Eisley somewhere new
Self
—
Get back to early mornings
(didn't wake early
every
morning, but most days I was up before Eisley!)
— Be active every day
—
Daily devotions/journaling
—
Finish reading one book
(almost done with
Say Goodbye to Survival Mode
, just finished
The Nesting Place
, which I absolutely adored!)
Creativity
—
Make 5 items to list in the shop
(made a bunch of headbands, but I'm not sure whether I will list them quite yet)
— Finish album for Eisley's 1st birthday
Miscellany
—
Earn at least one $5 gift card from
Swagbucks
(earned 3 thanks to completing a special offer!)
Here's a closer look at some of last week's goals:
My in-laws gifted me an Etsy gift certificate for my birthday, and part of it went towards this gorgeous prayer journal that I had been eying for some time. The lettering is beautiful, and I love that it is undated (I will most likely begin in October, although it's tough to wait!). You can find it yourself
here
at Val Marie Paper. They also have a
kid's journal
that is just precious!
As I mentioned before, Eisley and I ventured to a new park last week, which was all kinds of fun. We're very lucky to live somewhere with what seems to be an unlimited amount of parks within a 30 minute range! Once it cools down, I'd love to try to make it to a new park every week during October. (Also, for the record, she refused to smile for this photo until I told her I had a fruit rollup in my purse. Victory!)
Here's another peek at some of the hair bows I made. The colors are making me all swoony. It feels good to be making a dent in the pile of fabric I've had taking up space for ages!
This week's goals:

Marriage, Motherhood & Home Life
— Plan date night
— Work on patience with Eisley (I've been dreadfully out of patience lately)
— Complete workbooks with Eisley 4-5 times
— Deep clean/organize crafting nook

Self
— Make it though the week without any additional crabby-lady meltdowns
— Finish reading one book

Creativity
— Decide whether or not to continue selling my crafts at local shop
— Start working on new blog design
— Research online classes for web design

Miscellany
— Send one piece of snail mail
I hope the week ahead is a lovely one for us all! If you end up blogging about your own to-do list, definitely be sure to let me know.
Affiliate links included in this post. Yep, yep.