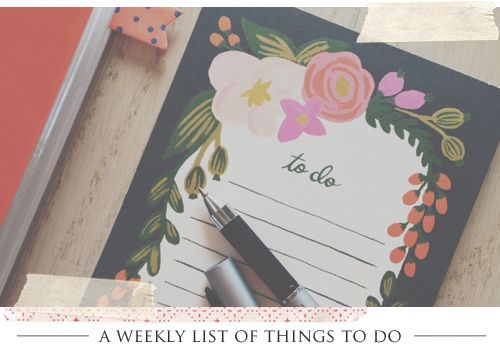 I took a bit of a break from these lists during August, but I'm eager to start them up again. I like having these posts to start off my week—it helps me feel more organized, accomplished, centered. Funny how a little thing like this can have such an impact.

In any case, see below for this week's to-dos!
This week's goals:
Marriage, Motherhood & Home Life
— Meet with financial advisor
— Plan date-night for this month
— Take Eisley somewhere new
Self
— Get back to early mornings (I've relapsed and am "sleeping in" until 6:45 again)
— Be active every day
— Daily devotions/journaling
— Finish reading one book (currently reading
Say Goodbye to Survival Mode
,
The Nesting Place
, and
Red-Hot Monogamy
as ebooks, as well as
The Sugar Queen
and
Confessions of a Jane Austen Addict
as "real" books)
Creativity
— Make 5 items to list in the shop
— Finish album for Eisley's 1st birthday
Miscellany
— Earn at least one $5 gift card from
Swagbucks
Monday, please be kind. I hope you all have a beautiful beginning-of-the-week!
Affiliate links included in this post. Yep, yep.