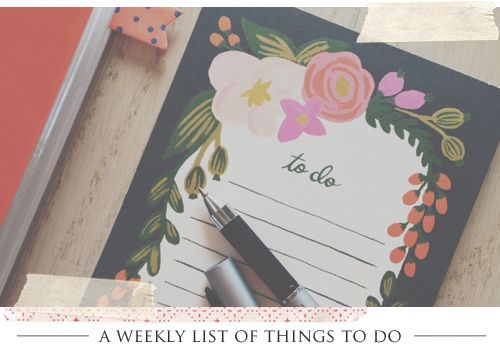 This morning, I'm a mess. No shower, no makeup, need-to-be-laundered clothes. After a busy weekend, I'm thinking perhaps I'm owed a scrub-town Monday. Can we all agree on that to make me feel better? Now, let me finish this post so I can continue making awesome food choices by eating a bunch of leftover taco dip, regardless of the fact that I just ran out of chips…

Yes, this past week was a full one. The highlights were definitely an overdue date night, getting our first ever family photos taken (unless you count Olan Mills church directory photos), a birthday shindig at our place to honor Eisley's third birthday (which is officially Wednesday), and visiting with one of my best friends while she was in town. Phew! Good stuff. Busy, but good.

This week I really need to focus on three things: developing a loose plan for our upcoming year of home-pre-schooling, spending time with God every day, and stepping back from my consumption of social media. I'm so looking forward to the first and second, but the third will be a challenge. Still, I can completely admit to it stealing my joy and putting me into the life-comparison-trap more often than it should. Time to delete some apps, methinks.

Here's a look at last week's to-do list, as well as a new list for the week ahead:
Last week's goals:
Marriage, Motherhood & Home Life
—
Make birthday plans for Eisley
(kept it simple with a small get-together at home)
—
Continue working on a positive attitude
(still a struggle, but at least I'm being more intentional)
—
Date night with Jay
—
Start gathering ideas for homeschooling Eisley this fall
(feel free to take a peek at my
Homeschooling Happiness
board on Pinterest!)
Self
— Run 10 miles (still, I ran 8!)
— Read one book (couldn't keep up my pace, clearly)
— Read scripture every day (not even close)
Creativity
— Finish granny square blanket
Miscellany
—
Send one piece of snail mail
—
Earn at least one $5 gift card from Swagbucks
A closer look at some of last week's goals:
After a fair bit of stressing out over the whole thing, we decided on keeping it simple with a small get-together at our place for Eisley's (early) birthday party. I did a bunch of homemade decorations (which I will share later this week!) and made some favorite foods and was altogether pleased with how it all turned out. Granted, it was mid-80s the entire afternoon, but I suppose that will always be the case with August birthdays!
Party dress; hair flip! Probably one of my favorite photos from the day. She is a gem.
When it comes to books, this is my current read:
Confessions of a Jane Austen Addict
. Much lighter than the previous two books I picked up, so it's been refreshing! It's a quirky, charming little book with short chapters that make it easy to pick up here and there throughout the day. I'm only one-third of the way through, so I'll let you know if I think it's worth the read once I'm finished!
This week's goals:
Marriage, Motherhood & Home Life
— Begin developing homeschooling plan for Eisley
— Finish
Love Languages
quiz with Jay
— Work on my patience with Eisley
Self
— Get back to early mornings
— Buy something I need for my wardrobe
— Spend (intentional) time with God every day
— Have a solo-outing one evening
Creativity
— Create one how-to post for the blog
— Start birthday photo book for Eisley
Miscellany
— Earn at least one $5 gift card from
Swagbucks
I hope the week ahead is a lovely one for us all!
Affiliate links included in this post. Yep, yep.