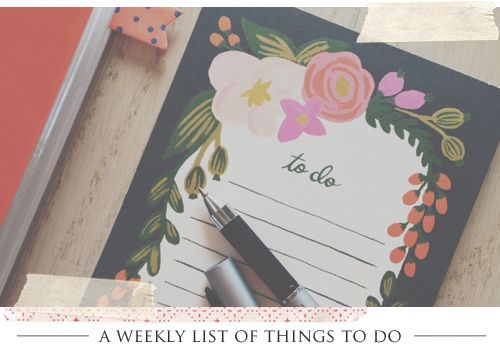 I was in a fairly dreadful mood for much of last week. I want to blame the heat and humidity and our lack of central air conditioning, but I know they're only partially to blame. (Although, have you ever tried to blow-dry your hair in 83% humidity? This is why messy buns reign in summer.) I also only exercised once, and the only day I got up before Eisley was Sunday—so, neither of those things helped. To be honest, I can always feel myself swinging into these moods and try as I might, I just have to ride it out until I find calm again. A little ridiculous, sure, but it's one of those things that I'm not sure I'll ever be able to fully change.

That said, I'm ready for this week…time to start fresh.

See below for last week's to-do list, as well as a new list for the week ahead:
Last week's goals:
Marriage, Motherhood & Home Life
— Try one new recipe
—
Buy one new item we need for the duplex
(snagged a frame for only $3.88 on clearance at Target)
—
Organize Eisley's clothes and toys
(and donate any she no longer needs)
Self
—
Order glasses
(decided to go with the ones from
this post
that I loved so much)
—
Read every day
—
Restart running program
Creativity
— Add vintage books and other miscellany to
the shop
— Make 5 new things to sell
Miscellany
—
Send one piece of snail mail
— Tackle email inbox
A closer look at some of last week's goals:
I actually found time to read every single day, which felt like a feat. It's been a while since I've consistently read something—and I can't remember the last fiction book I couldn't put down. I tend to stick to memoirs and other non-fiction, as of late. I'm currently reading
The 19th Wife
(
much
different than I thought it would be, but overall it has kept my interest and made me look forward to picking it up every day).
I went through
all
of Eisley's clothes, including several boxes we have in the garage, to weed out the things she no longer needs or fits into. She insisted we go through the Halloween box, which resulted in the above shenanigans. Totally worth it.
As for snail mail, I ended up sending out a few things—including the above goodies to my older sister. Hooray for adorable things in the Target dollar bins!
This week's goals:
Marriage, Motherhood & Home Life
— Work on a positive attitude (esp. around my husband)
— Deep clean/organize something
— Take Eisley somewhere new
Self
— Splurge on something I need (jeans, running shoes, unmentionables)
— Run 3 times
Creativity
— Work on snail mail project/post how-to on blog
— Write, write, write
Miscellany
— Send one piece of snail mail
— Earn at least one $5 gift card from
Swagbucks
— Tackle email inbox
To anyone else who suffered from the blues last week: I hope you have an absolutely beautiful
let's-start-fresh
Monday, too!
Affiliate links included in this post. Yep, yep.