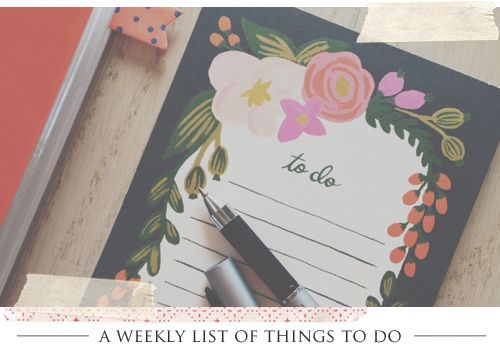 Aaaaaand now it's back to the usual, after a few weeks away! I know it wasn't the longest getaway of all time, but even after being away for a couple weeks I started to look forward to doing things like grocery shopping, cleaning day, and the friendly sound of our own coffee maker every morning. (Have I mentioned I'm a bit of a homebody? It's an issue.)

So, here are my goals for the week ahead:
Marriage, Motherhood & Home Life
— Try one new recipe (I have my eye on
this pesto recipe
)
— Buy one new item we need for the duplex (most likely pillow covers to replace the ones that are falling apart, or a frame for my one-of-these-days wall collage)
— Organize Eisley's clothes and toys (and donate any she no longer needs)
Self
— Order glasses (decided to go with the ones from
this post
that I loved so much)
— Read every day
— Restart running program (can't believe it's been three weeks—yikes!)
Creativity
— Add vintage books and other miscellany to
the shop
— Make 5 new things to sell
Miscellany
— Send one piece of snail mail
— Tackle email inbox (hold me!)
Are any of you folks doing weekly to-do lists on your blogs these days? I'd love to take a peek at yours!