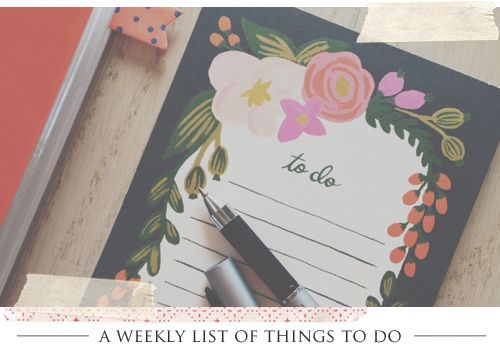 This past week felt like a blur. For a few days, I wasn't feeling well. During most days, Eisley had at least one epic tantrum. On one day, I was in the worst mood of my life. But, still…there were many good moments scattered throughout the past week, and for those I am grateful.
Most notably, I was able to complete three of my goal workouts, which felt
amazing
. I've started running over and over and over again for the past few years, but the habit hasn't stuck. I haven't run consistently since I first fell in love with it, between 2008 and 2009. Granted, I had a gym membership and a ridiculous amount of free time at that point in my life, and it was much easier to fit 3+ weekly runs into my schedule.
This time around, I'm feeling more confident. Between making the decision to wake up early to work out and finding an app that I love (
Runkeeper
, for those interested), I have a feeling I can keep it going. I am also forcing myself to take it very
slow
. There truly isn't a rush, and I don't want to get burnt out quickly and not look forward to exercise. I'm doing a free couch-to-5k sort of program through the app I mentioned, and it keeps every run interesting—sometimes I do intervals, sometimes it's a certain mileage, sometimes it's a certain time goal. I love that it tracks my personal bests, and keeps a list of calories burned and miles run for every week. This morning I completed my 4th workout of the program and it started my day off in the most perfect of ways. (And it turns out I needed the extra time to clear my head this morning, considering Eisley has decided to not take a nap this afternoon. Hold me!)
On days I don't have scheduled runs, my plan is to either do a workout DVD or yoga on our Wii Fit. I know there's no way a workout will happen every day, but being active first thing in the morning feels so good. I'll do what I can with the time I can, and will cheer myself on as I go along.
This past week has been the perfect reminder of how one good choice leads to another, which leads to another, and on and on it goes. If the first thing I do during the day is something good for my heart, body or soul (or sometimes all three), odds are the rest of the day will be filled with even more good choices.

See below for last week's to-do list, as well as a new list for the week ahead:
Last week's goals:
Marriage, Motherhood & Home Life
—
Try one new recipe
(I tried a new chocolate chip cookie recipe—will share more tomorrow!)
— Take Eisley somewhere new
—
Reorganize garage
Self
—
Read every day
—
Run twice
(ran three times!)
—
Complete daily devotions/prayer
(skipped one day, but I'm going to still cross this one off because…progress!)
Creativity
—
Make a bunch of handmade thank-you cards to have on hand
— Work on granny square blanket
Miscellany
—
Earn at least one $5 gift card from Swagbucks
— Send one piece of snail mail
This week's goals:
Marriage, Motherhood & Home Life
— Buy (or make) Father's Day gift for Jay
— Deep clean/organize something
Self
— Run three times
— Work on my Sunday grumpiness (never fail, Sundays are the worst days for my attitude)
— Learn something new
Creativity
— Work on granny square blanket
— Organize items for destash sale
— Clean off my sewing machine (to hopefully start using again soon)
Miscellany
— Send a care package to someone
— Drop off clothes/books at Goodwill
Here's to a beautiful week ahead...