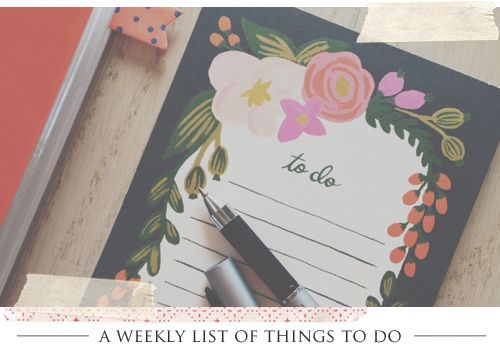 Things are going to be quiet around here for a couple weeks (except for a couple scheduled posts) just so nobody thinks I fell off the face of the earth—especially because I've been able to blog somewhat regularly as of late! July is turning out to be an incredibly busy month, so taking blogging off the agenda is a good thing. I have a bunch of posts in the works, though, so when things slow down mid-month you'll have trouble getting rid of me. Fair warning.

I'll be taking a break from these lists in the meantime, but I thought I'd let you know how I did for the past week! I feel like it went by in a flash (as always) but I'm sure the next couple weeks will go by even faster.

See below for a check-in on last week's list:
Last week's goals:
Marriage, Motherhood & Home Life
—
Do something thoughtful for Jay
—
Take Eisley somewhere new
(went to a new beach for a few hours)
— Cook/bake something from my
food board
on Pinterest
—
Do a special craft or project with Eisley
(see below!)
Self
—
Find a 5k to run later this year
(I have my eye on
this one
in October)
—
Complete devotions at least 5x this week
— Order contacts or glasses
Creativity
— Host destash sale for
my shop
(decided to wait until later this month)
—
Fluff up my product display at local shop
(looking better but still needs a lot of work!)
Miscellany
—
Send one piece of snail mail
A closer look at some of last week's goals:
I wasn't sure I was going to end up being able to take Eisley somewhere new, but on Saturday we ended up having a baby shower to go to at a beach we'd never taken her to. She enjoyed a rather sandy s'more, entertained a bunch of Jay's friends, and cuddled up in a couple beach towels after the sun went down. It made me want to do beach afternoons more often.
I've definitely done a lot more purposeful play with Eisley this past week. More walks to the park, a picnic lunch, imaginative play with blocks and puzzles, making a new batch of homemade playdoh, and other such things. We did the above project on a whim, and I thought she'd be way more excited about it than she actually was. It was really quick, and she hurriedly drew a face on the butterfly, taped on the wings, drew a couple letters here and there and went on her merry way. (In case you're wondering, the butterfly's name is Naomi. Obviously.)
I've tried a couple different devotionals here and there, and always end up coming back to this one. It's so simple and beautifully written. Almost every time I read it, it's the exact thing that I needed to hear. Even if I don't have time to journal, it's an easy way to find some comfort (and be challenged) when you only have a few minutes to dedicate to devotions. I also like the idea that it's something I could read year after year and never tire of it.
Well, I hope everyone has a beautiful beginning-of-July! I'll see you on the flip side. (Pretty sure nobody says that anymore, but still.)