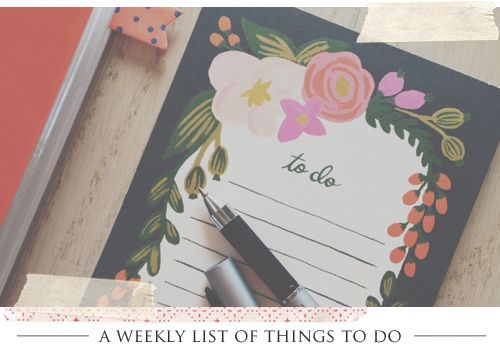 Well, another week has come and gone and I can hardly believe how quickly it went. A true sign of adulthood must be that feeling of time going by entirely too fast and freaking out when you realize you're halfway through the year and you feel like you just celebrated Christmas. Honestly. Should I check Michael's for Halloween decorations already? Because they may be available.

(Granted, I'm the oddball who would live in a Christmassy snow globe world if I had the chance, so the holidays can't come soon enough, if you ask me. Perhaps I shouldn't complain.)

In any case, the past week was a good one. We're busy potty training (Eisley), watching too much soccer (Jay) and starting to get stress-hives thinking about packing for our upcoming vacation (me).

I've decided to offer a closer look at some items I end up crossing off these lists each week, so after a recap of the previous week's goals, I will share photos I took relating to a few completed goals. Excited yet? I know, you're on the edge of your seat. It's about to get crazy up in here.

Wait, I think I built that up way too much. But I just ate half a leftover Easter bunny I found in the fridge and may be high on chocolate right now. Energyyyyy.

See below for last week's to-do list, as well as a new list for the week ahead:
Last week's goals:

Marriage, Motherhood & Home Life
— Try one new recipe
— Deep clean/organize something (organized our small half-closet/cabinet that holds all of Eisley's clothes and a majority of my stockpiled beauty products)
— Go on a little family adventure

Self
— Run three times, and set some sort of personal record (ran my fastest average mile, which was quite fantastic)
— Stick to 10PM bedtime all week
— Social-media-free Sunday (may end up doing social-media-free weekends—so refreshing!)

Creativity
— Finish granny square blanket (went to 3 craft stores in search of the mint yarn I ran out of, and no luck)
— Organize items for destash sale
— Clean my sewing machine

Miscellany
— Drop off clothes/books at Goodwill
A closer look at some of last week's goals:
This past weekend, we went on a little family adventure to the
Anaheim Packing District
, which is pretty much the coolest place ever. If you're a Southern California local, definitely check it out! It has a bunch of independent eateries inside (we had gourmet grilled cheese sandwiches, which were heavenly) and the ambiance of the whole place is so friendly, unique and charming. I was worried it wouldn't be a good place for Eisley to run free, but we did just fine and all had a blast.
I did my once-a-month quick organizing of my crafting nook, and came up with a bunch of supplies, vintage books, and other miscellany that I'm hoping to list in the shop this week. So, stay tuned for that goodness!
As far as cleaning/organizing goes, I've had my eye on this cabinet/half-closet for some time now. This cabinet is above some built-in drawers outside of our bathroom and bedroom. I'm able to keep all of Eisley's clothes and shoes, my humble stockpile of beauty supplies, and a few other odds and ends in there—and it is typically in a complete state of disarray. Confession: I'm a neat freak who is terrible at closets. They're always a mess. So, what you see above is the result of an intense nap time cleaning…and now I'm not angry when I open this cabinet, which is definitely something worth celebrating!
This week's goals:
Marriage, Motherhood & Home Life
— Do something thoughtful for Jay
— Take Eisley somewhere new
— Cook/bake something from my
food board
on Pinterest
— Do a special craft or project with Eisley
Self
— Find a 5k to run later this year
— Complete devotions at least 5x this week
— Order contacts or glasses (still putting this off!)
Creativity
— Host destash sale for
my shop
— Fluff up my product display at local shop
Miscellany
— Send one piece of snail mail
Here's to a beautiful week ahead!