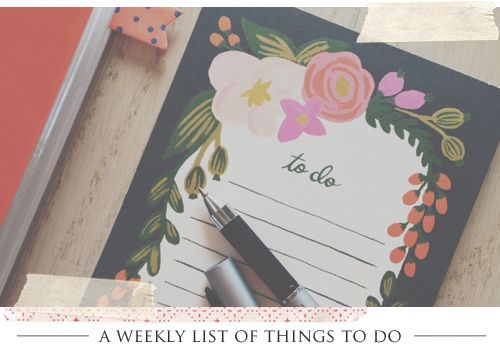 I've been in a bit of a funk lately…it comes and goes, but this past week I ended up being a bit frustrated and overwhelmed by all the things I was trying to do. Things that aren't even on my "list", but instead linger in the back of my mind and pop up to distract me every now and then. All of a sudden I'm all stressed about Eisley's future schooling (when I was a kid, we didn't even go to school until 4, so stop stressing me out, modern culture!), I'm feeling a little bit lost when it comes to church/Christian life (it has been over a decade since I've been to a church that truly feels like home), and a bunch of other heavy, emotional things have been hanging over my head.

Ah, well. This too shall pass. Or something fancy like that.
So, without further ado, here is a peek at last week's list, as well as a list of things I hope to accomplish next week!
Last week's goals:

Marriage, Motherhood & Home Life
— Plan date night for this month
— Try one new recipe
— Buy new curtains

Self
— Get up before Eisley at least two mornings
— Finish reading one book
— Limit dairy consumption (didn't cut it out completely, because that's not possible at this point in time—but I've been much more aware of how much dairy I do eat and have tried to limit it as best as I can!)
— Make optometrist appointment (I technically did this today, but it still counts, right?)

Creativity
— Organize crafting nook
— Reevaluate current shop items/design

Miscellany
— Earn at least one $5 gift card from Swagbucks
This week's goals:
Marriage, Motherhood & Home Life
— Plan date night for this month (why is it so difficult to do this?!)
— Try one new recipe (I have
this one
picked out)
— Start compiling a shopping price list (so I am better able to track the best price of items I often buy)
Self
— Get up before Eisley at least two mornings
— Finish reading one book (I'm currently reading
The Kind Diet
and
Say Goodbye to Survival Mode
)
— Talk about "faith stuff" with someone (vague, I know)
Creativity
— Make 5
embroidered felt pins
— Host big ol' sale for
the shop
Miscellany
— Earn at least one $5 gift card from Swagbucks
— Toss/donate 10 things we no longer use or need
Happy Monday, my friends! Sometimes I feel like I'm the only person who likes Mondays more than I like Sundays. (Granted, this has only been since I quit my job, but still. Yay, Monday?)