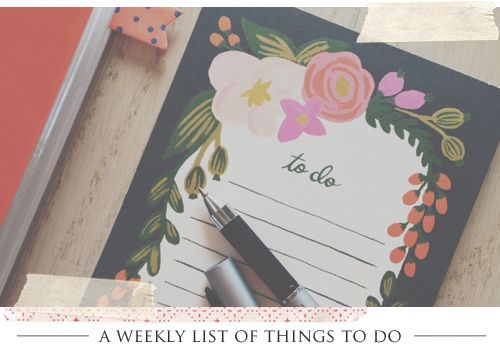 I obviously took a few weeks off from my list-making here on the ol' blog, but kept busy with all the other things that have been going on in my life. (Family stuff! A film-festival-ing husband! A visiting brother-in-law! A visiting sister! Surviving boiling temperatures in a non-air-conditioned duplex!) But I'm back at it this week, fellow list-making aficionados.
Since so much time has passed between my last list and this new one (and because odds are I don't even remember what I accomplished that many weeks ago), I'll just share the items I hope to accomplish for the week ahead:
This week's goals:
Marriage, Motherhood & Home Life
— Plan date night for this month
— Try one new recipe (possibly vegan?)
— Buy new curtains (a certain tantrum-ing toddler ripped a hole in one of my favorites)
Self
— Get up before Eisley at least two mornings
— Finish reading one book (I'm currently reading
The Kind Diet
)
— Limit dairy consumption (because of the above book, which I'm loving)
— Make optometrist appointment (I have been out of contacts for months, and desperately need a new pair of glasses)
Creativity
— Organize crafting nook
— Reevaluate current shop items/design
Miscellany
— Earn at least one $5 gift card from Swagbucks
If you have any fairly-simple vegan recipes, or inexpensive (and pretty) curtain reccomendations you'd like to share, please leave them in the comments! Here's to a beautiful—and possibly productive—week ahead.