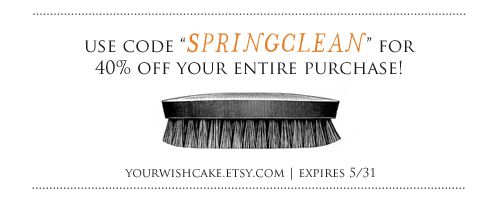 This year, I've been thinking a lot about how much I've changed creatively since first opening
my shop
in 2007. The items I've created and sold have varied quite a bit since my (very) humble beginnings, and at this point in time I wonder if it's time for another reinvention. I've always sold whatever I felt like creating, but I wonder if I could do more with it all if I buckled down and settled on offering only a handful of items that I'm
really
excited about.
As I try to come up with my new game plan, I figured it would be best to close my shop for a short while. Hence the spring cleaning sale!
I'd like to have my shop fully restocked (and possibly redesigned) by my birthday in August, so now is the time to clear out all my current stock and make room for new creations. If you use the code SPRINGCLEAN you will receive 40% off all items listed. I'm keeping the shop open until 5/31, at which point I'll be closing up until August. Take a peek at the items below, or
click through
to see all the items currently available!
If you have any questions, please feel free to shoot me an email or leave a comment on this post! Thank you for all your support over the past seven years of Etsy-ing. It's been more than I ever thought it could be.