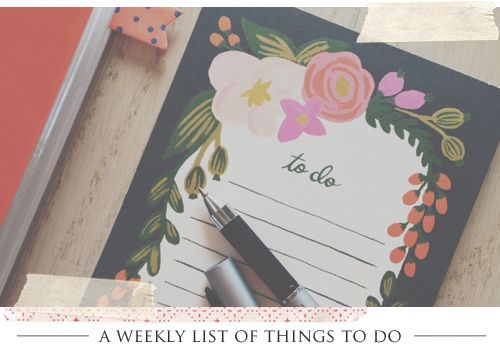 This past week was actually quite productive. I was busy without feeling busy, which is quite a feat! I'm surprised I completed all but one of my goals (and fully realize that this is definitely not something that will happen on a regular basis). I have family in town this week, so I'm keeping it easy and trying to be realistic with what I hope to accomplish.
Here is the progress I made on last week's list, as well as my new list for the upcoming week!
Last week's goals:
Marriage, Motherhood & Home Life
— Have an at-home movie night with Jay (We Redbox-ed the latest Hunger Games movie, which was fairly decent.)
— Try one new recipe (Made baked tilapia with a new sauce—yum!)
— Deep clean/organize cabinet in crafting nook
— Take Eisley somewhere new (We went to a library we've never visited before!)

Self
— Complete daily devotions
— Exercise 4 times (Working my way through the 30 Day Shred. Hold me!)
— Implement one new healthy habit (I've been eating breakfast with Eisley each morning, so I don't forget or put it off until I'm absolutely starving.)

Creativity
— Finish 1-2 embroidery pieces to add to the shop
— Learn something new (We made no-sew fleece blankets at my mommy group this week, and I'm sufficiently obsessed.)

Miscellany
— Toss/donate 7 items we no longer need or use
This week's goals:
Marriage, Motherhood & Home Life
— Date night
— Get up early and make Jay breakfast at least once
— Deep clean/organize something
— Try one new recipe
Self
— Exercise 5 times
— Earn at least one $5 gift card through Swagbucks
— Finish reading one book or e-book
— Make time for daily prayer
Creativity
— Make 6 hair bows to donate
Miscellany
— Resist the urge to buy anything unnecessary
I hope everyone has a beautiful week!