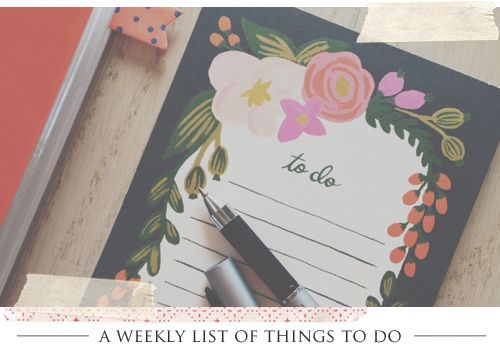 This past week was a pretty good one. For some reason, I felt a bit overwhelmed with everything as the days passed by, but maybe that's just how I roll at this point in life. The week ahead isn't filled with too many things, so for that I am grateful. Maybe I've earned a bit of a homebody week.

When it comes to these lists, I like that I have these specific items in the pack of my mind each day. Even though I have yet to complete an entire set in one week, I don't feel the extra pressure I normally do when making a list in my head on Sunday evening…and I don't feel all that bad about the things left undone once the next Sunday rolls around. Maybe there's something about writing them down in this way that lends extra motivation without being too terribly aggressive about it. I rather like that.
Here is the progress I made on last week's list, as well as my new list for the upcoming week!
Last week's goals:
Marriage, Motherhood & Home Life
— Plan a date night for this month (at this point, it's just not going to happen)
— Try one new recipe (made baked hake, since we just picked up a bag from Costco)
— Clean and organize my crafting nook
— Take Eisley on an adventure of some sort (spent one morning at an outdoor splash-pad/fountain at a local mall)

Self
— Complete daily Jesus Calling devotions/journaling/prayer (I didn't journal every day, but hey…progress!)
— Exercise 4 times
— Schedule doctor and dentist appointments that I've been putting off forever and ever, amen

Creativity
— Design free printable for blog (Just tying up loose ends with this project—should be up later this week!)
— Restock shelf at local shop with new items

Miscellany
— Send one unexpected piece of snail mail
This week's goals:
Marriage, Motherhood & Home Life
— Have an at-home movie night with Jay
— Try one new recipe
— Deep clean/organize cabinet in crafting nook
— Take Eisley somewhere new
Self
— Complete daily devotions
— Exercise 4 times
— Implement one new healthy habit
Creativity
— Finish 1-2 embroidery pieces to add to the shop
— Learn something new
Miscellany
— Toss/donate 7 items we no longer need or use
This time of year sometimes feels so perfect. We're far enough away from the heat of summer or the busyness of the holidays. The days are filled with sunshine (and we can even bust out the flip-flops and bathing suits), but the evenings still provide a chilly breeze that feels good for my soul. And we're close enough to the New Year that it doesn't feel
too
late for a new resolution or two, or a beginning of some sort.
Springtime, you're the best.