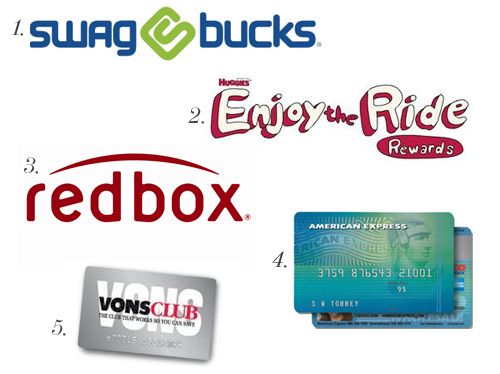 There's no way to write this post without sounding sales-y, but I promise that nobody told me to write this, and I am in no way being compensated for writing this. (I am including one referral link, but I will point that out later on.) I'm recommending these companies because they are things I use and love and kind of wish I'd known about a while ago.
I'm sharing the knowledge up in here, my friends. Get ready.
I've recently been keeping a running list of different rewards programs and such that I use regularly and think are worth sharing. Since going from a two-income household to a one-income household a couple years ago, I have been trying to take my thriftiness to new levels. Every little bit ends counts, you know? I know I love hearing when these sorts of things work for "real" people, so I thought I'd share some of my experiences.
Here are some worth-while things I've been doing, that I totally recommend:
1.
Swagbucks
— I've been hearing about
Swagbucks
for a while now, but finally signed up last month. I honestly didn't think I'd get any benefit from it, but have been pleasantly surprised. (Full disclosure:
This is my Swagbucks referral link
. See? I don't lie. Except in regards to cookie consumption. Because, really.) I've had my Swagbucks account for less than a month and have already earned $45 in Amazon gift cards. I had
no idea
I could make that much money. I earn the most Swagbucks doing surveys (I try to do one per day, sometimes more, if I have extra time). When I'm doing things online, I also use their search engine, which rewards you periodically with extra Swagbucks. My goal is to hoard these gift cards to use for buying Christmas/birthday gifts throughout the year.
2.
Huggies rewards
— There are a few diaper rewards programs out there, but Huggies
Enjoy the Ride
has been my favorite by far. I've found it easier to get rewards from their program, but I know that may be because we end up getting big ol' boxes of Huggies diapers from Costco, which certainly helps. I don't
exclusively
buy Huggies (I always buy what I can find for the best price) but I've still been able to acquire enough points to received 4 free gifts so far. They are cute toys, too! I recently ordered
this flashlight
and
this bubble set
(both by Melissa & Doug!) that I will be keeping for Eisley's birthday in August. (Free birthday gifts? Yes, please.)
3.
Redbox text alerts
— You can sign up for
Redbox text alerts
to receive texts with free rental codes each month, as well as .50 discounts that they send every week-or-so. Jay and I are each signed up, so we know we'll be getting at least 2 free rentals each month (sometimes Redbox sends extra freebies each month, too). Totally worth it, you guys. And they aren't spammy at all.
4.
Costco American Express card
— We've actually had our
Costco Amex
cards for years and years, but I thought it would be worth mentioning here. We earn cash back on every single purchase we put on these cards, and at the end of the year we get a check that we can spend or cash out at any Costco. (We always choose the cash option.) On average, we get a few hundred dollars back at the end of the year, which is always a little too exciting. (It's probably only fair to note that we put every single thing we can on our cards throughout the year, in order to get as much cash back as we can. But we also pay in full at the end of each month, so we don't pay any interest—that way, the cash back we receive is like free money!)
5.
Vons fuel rewards
— Yeah, you're totally tired of me mentioning Vons, but I'm not going to talk about couponing this time. (At least, I hope not. No promises.) Vons offers fuel rewards that you earn on each purchase, based on how much you spend. There are times they offer 2x (or more) fuel rewards that you can add to your card through their
just for u
page. This month I was able to get 9 fuel rewards, that equaled .90/off per gallon (you can use up to $1/off once you've earned 10+ rewards). You do have to fuel up at a Vons/Safeway gas station to use that many fuel rewards (or you can use up to .20/off per gallon at certain Chevrons), but I find that going to the Vons gas station totally worth it, because I filled up my tank for LESS THAN TEN DOLLARS.
What.
I love that there are so many different ways to save money (and make money) with these sorts of things. If there are any other programs you recommend, send 'em my way…