So, my vacation can pretty much be summed up with the following words: adorable nephew, too much food, too much wine, many photos, giggles with my sisters, one turkey dinner, being "home", a morning full of snow, one evening of sushi, seven days of serious baby fever, a bit of drama, a bit of making up, falling in love with a werewolf named Jacob, finding the perfect red knit hat I've been searching for all my life, remembering why I love my family so ridiculously much, lessons learned about myself, and one seriously hilarious movie montage involving almost all of my family members.
Oh, yes. And one more thing. This little peanut managed to perfect his walking skills during the week I was visiting: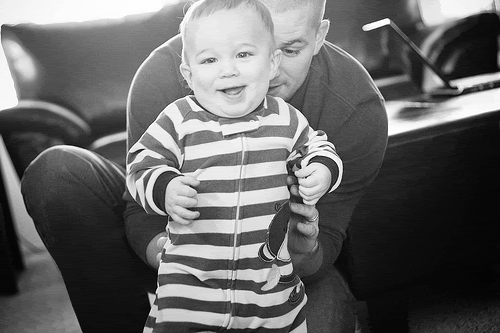 I know. My ovaries are throwing a tantrum, too. Did I mention I want a child, like, tomorrow? Lord have mercy.
In any case, after an entire week away, it's lovely to be home! It's time to go back to the real world - well, my real world. But I guess that's okay. This vacation is exactly what I needed at exactly the time I needed it. I feel so full of energy and happiness, and although I miss my family like crazy (already) I'm thrilled to walk away with so many new memories and wonderful moments all tucked away into my heart.